W-70 and Wk-70 systems part 2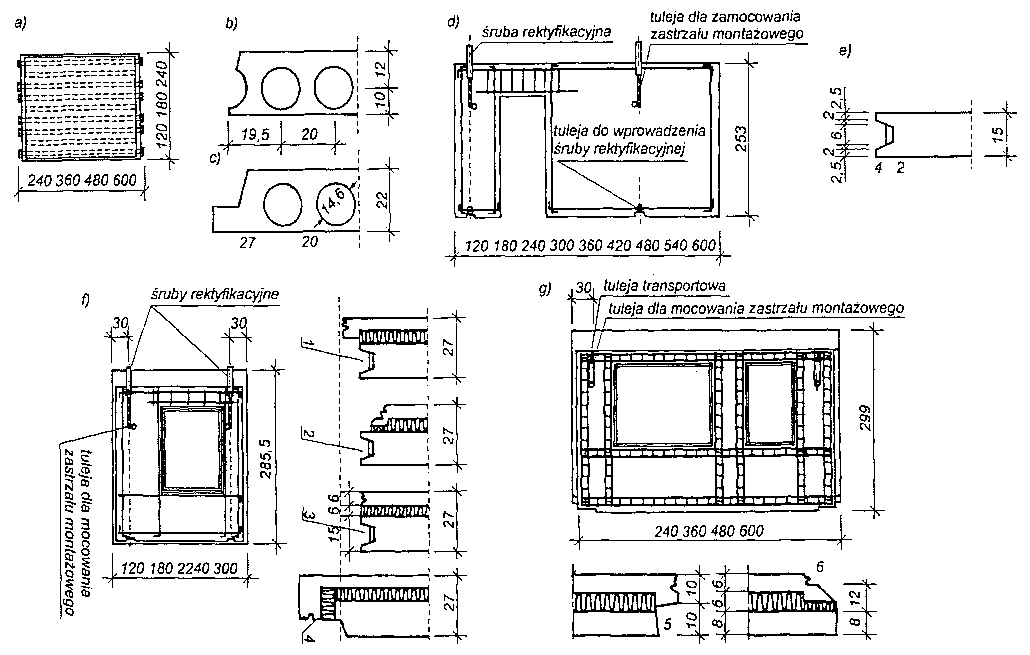 Prefabricated elements of the W-70 system: a) ceiling slab, b), c) longitudinal edges of the inner and outer plates, d) internal load-bearing wall, e) rim detail, f) Multilayer gable load-bearing wall, g) curtain wall; 1 - vertical straight rim, 2 - vertical concave rim, 3 – vertical rim shortened, 4 – vertical corner rim, 5 – vertical straight rim, 6 – vertical concave rim.
The multi-layer walls consisted of the following layers:
a) outer texture with a thickness 6 cm,
b) insulating (polystyrene or mineral wool) thick 6 cm,
c) structural thickness 8 cm.
Cellular concrete curtain walls could be made as large-size collated aerated concrete planks or as sash belts and inter-window pillars.. The thickness of the elements was 24 cm.
Prefabricated basement walls were produced for internal and external walls. The prefabricated internal walls are of concrete height 257 cm, thickness 20 cm and length: 120, 180 i 240 cm. Prefabricated elements were produced with real lengths smaller than 22 cm i 1 cm from the modular length.
It is provided for multi-layer or aerated concrete external walls above the ground 2 types of prefabricated basement walls in thickness 24 cm, which differed in length.
The outer walls of the attic could be made of prefabricated elements, concrete with a thickness 20 cm and height 120 i 180 cm and from aerated concrete.
In addition to the basic elements mentioned, the system comprised such elements, how: loggia walls, prefabricated staircases, roof and balcony panels as well as attic openwork walls.
The picture above shows the prefabricated elements of the W-70 system. The most significant differences between the original W-70 version and the Wk-70 version were as follows:
a) introduced, in place of hollow-core floor slabs with a thickness 22 cm plates full of height 16 cm,
b) Due to the change in the thickness of the floor slabs, the shape of the edges and the height of the slabs of external and internal walls were changed,
c) a different shape of the edges of vertical external walls was introduced by replacing the double decompression channel of the sealing part of the joint in the W-70 system with a single channel using a vertical sealing insert,
d) a different assembly of external curtain walls was introduced, consisting in hanging them with steel hangers on transverse load-bearing walls,
e) the lower edges of the load-bearing wall panels are welded together and the ceiling joist is introduced,
f) complete unification of the edges of the front and side floor slabs was introduced, landings and platforms, thereby reducing the number of distinct edge-shaping inserts,
g) a unified solution of external load-bearing walls was introduced as multilayer panels with a thickness 27 cm.