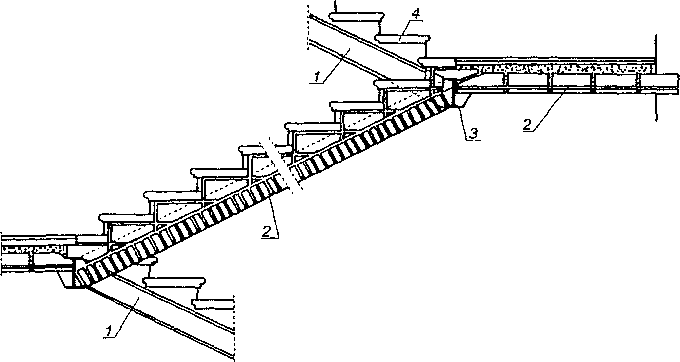 Stairs on steel beams; 1 - steel bar, 2 - Klein's album, 3 - landing beam, 4 - brick or concrete steps.
Steel stairs.
In apartment buildings, office and public utility buildings with a steel structure, reinforced concrete monolithic or prefabricated stairs are usually used. Reinforced concrete stairs on steel beams are also used in these buildings.
In old buildings, you can find stairs with a steel structure - stringers and landing beams, in which the plates of runs and landings are made of brick, similar to the Klein ceilings.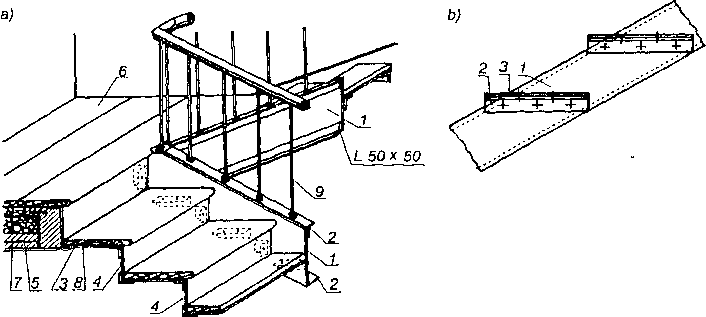 Stairs on steel beams: a) two-speed stairs, b) single-speed ladder type; 1 - cheek bar, 2 - angles, 3 - footrests, 4 - front legs, 5 - Klein's album, 6 - floor, 7 - legar, 8 - wooden lining of steps, 9 - railing.
The figure shows steel cheek stairs with wooden-lined steps. The stringers can be made of hot rolled sections (Lynx. 10.20b) or welded from sheet metal. There are steps on the brackets attached to the cheekbars, which can be made of wood, concrete or sheet metal. Stairs with steel steps are most often used in industrial buildings.
Spiral stairs are often used for communication between rooms located on two levels or for servicing platforms in industrial halls. Most often, the column of these stairs is the main load-bearing element, on which the cantilever steps rest.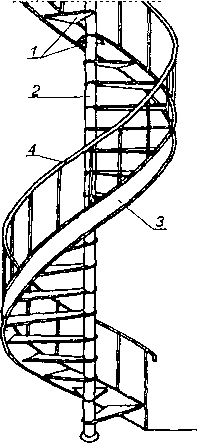 Steel spiral stairs; 1 - footrest, 2 - pole, 3 - cheek bar, 4 - railing.
Stair finishing elements.
The staircase finishing elements include balustrades and handrails as well as stair cladding.
Depending on the location of the stairs in the building, pedestrian traffic intensification, representativeness of rooms, usage requirements, etc.. different materials are used for facing. They are commonly used: Oak wood, stone, mortar (concrete) with hard aggregate and plastics.