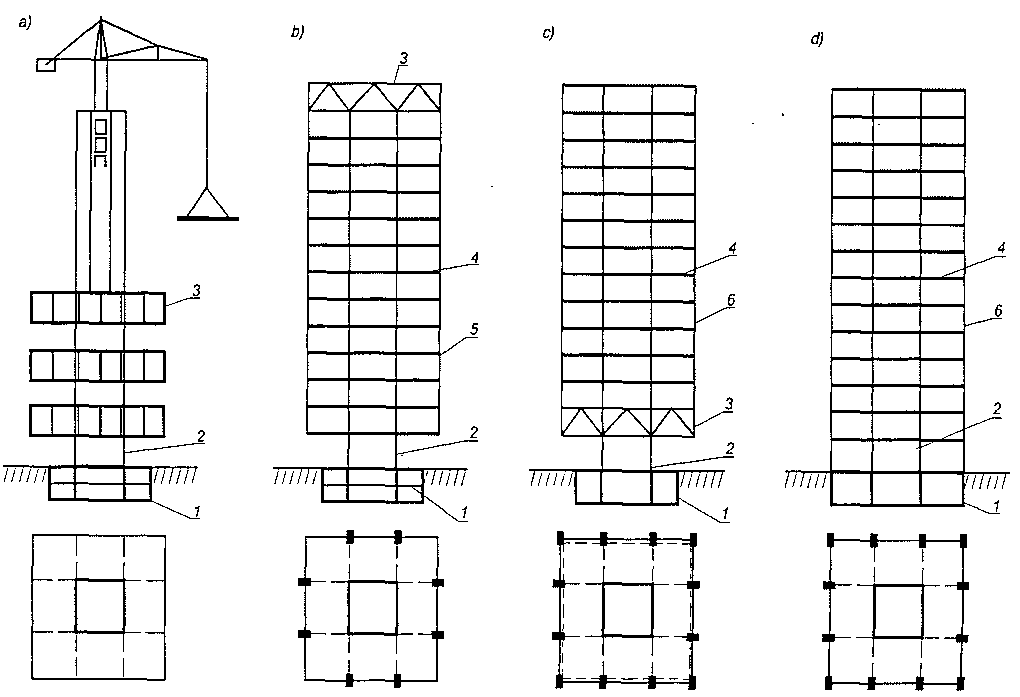 Core buildings: a) cantilever structure, b) hanger structure, c) support structure - columns set on girders, d) support structure – poles set on foundations; 1 - foundation, 2 - shank, 3 - main girders, 4 - ceilings. 5 - hanger, 6 -pole.
Molar systems
The shanks can be independent load-bearing structures of buildings or they can cooperate with other systems.
The load-bearing structures of the shaft building are shown in the figure. The building's spatial stiffness is provided by the core located centrally on its plan. The shaft transfers all loads acting on the building to the ground (the exception is the structure shown in Fig. d, where the columns on the foundation contribute to the vertical load) and is used for vertical communication and placement of installation devices.
Figure a shows the shaft, on which the girders with a height of one storey are based, located every second storey and transferring loads from two storeys. The system presented in Fig. b consists of a shaft and a main spar set at its apex. The ceilings of individual storeys rest along one side on the core, and the other one suspends it from the girders by means of tension members, steel bars, cables or ropes. Instead of suspending the ceilings, it is also possible to support them with poles set on the girders, which rest on the shank at the bottom of it (Lynx. c). In both solutions, the girders carry the weight of the ceilings of all storeys and transfer it to the shaft.
In the solution given in Fig. d the vertical load is transferred to the foundations through the shaft and columns, on the other hand, only the shaft takes the horizontal load. In this system, the ceilings are usually articulated on the shaft and columns.
Building shafts are usually made of monolithic reinforced concrete construction, while the main girders in a steel or reinforced concrete structure. In hearth buildings, mostly lightweight ceilings with a steel bearing structure are used. First, the shanks are made using sliding formwork. Door openings are left in the walls of the stem, installation and sockets as well as grooves for supporting the ceiling beams.