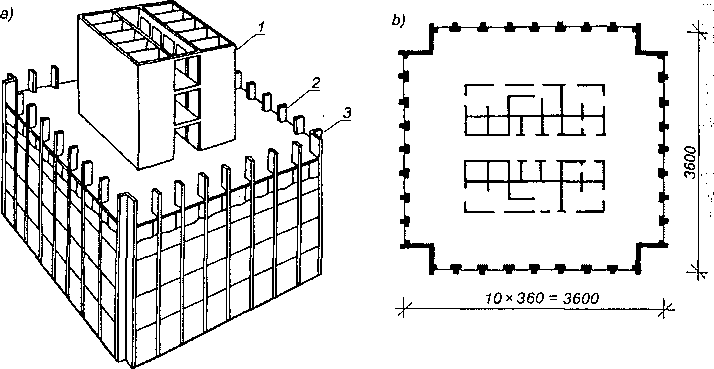 Molar-shell system: a) construction principle, b) a typical floor plan of the Bank Handlowy and Central Trade Foreign Trade in Warsaw; 1 - shank, 2 - pole, 3 - corner wall.
Molar-shell structures.
In buildings with a height above 100 m, shell structures are used. In reinforced concrete structures, these are most often double-skin structures made of a core and an outer shell connected by ceilings.
The core of the building is usually closed in cross-section and is made up of walls in two directions. There are cranes in the shaft, stairs, installation devices and rooms for various purposes. There are numerous door and installation openings in the walls of the shaft.
Stem walls up to 150 m are approx. 40 cm in the lower floors and approx. 20 cm in the top. The slenderness of the H / B shaft is within the limits 8-10, while the slenderness of the H / B building < 6—8 (H - height, B - width).
The outer shell is a set of frames made of columns connected by transoms around the perimeter of the building (Lynx. a, b). The spacing of the poles should not exceed 4,0-4,5 m, and the ratio of rafter stiffness to mullion stiffness is not less than 1,5. With larger column spacing, the stiffness of the coating decreases. It also contributes less to the transmission of horizontal forces. The height of the frame transoms and lintels connecting the walls ranges from the ceiling thickness (25-30 cm) to the height of the sill wall (90-150 cm).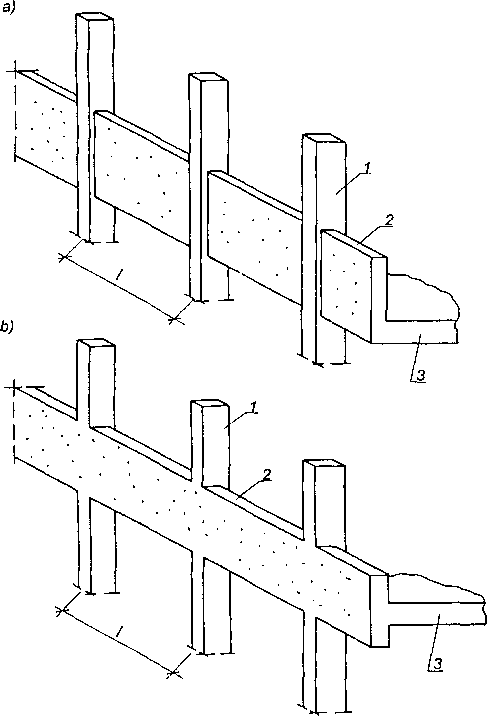 Shell elements: a) a bolt protruding above the ceiling and withdrawn from the face of the posts, b) in front of the poles; 1 — slup, 2 - frame bolt, 3 - ceiling.
Depends on the depth of the track (shell distance from shank) slab or beam ceilings can be used. With ceiling spans up to approx. 9,0 m, slab-thick reinforced concrete slab ceilings can be used 20-30 cm. Above 10,0 m slab ceilings may be unprofitable due to the need to increase the height of the floor slab. By using slab ceilings, the overall height of the building is lower than by using beam ceilings.
Tall buildings with a rectangular, square-like plan, are seated on one foundation slab. The shaft is usually made in sliding forms - at greater heights in two or three stages, and then columns and ceilings are made in staggered forms.
In the highest reinforced concrete buildings in Poland: 45-storey (139 m) the building of Bank Handlowy and Central Trade Zagranicznego and a 44-storey building (140 m) LOT building, erected in Warsaw, the shaft-shell structures were used.