Frame and wall structures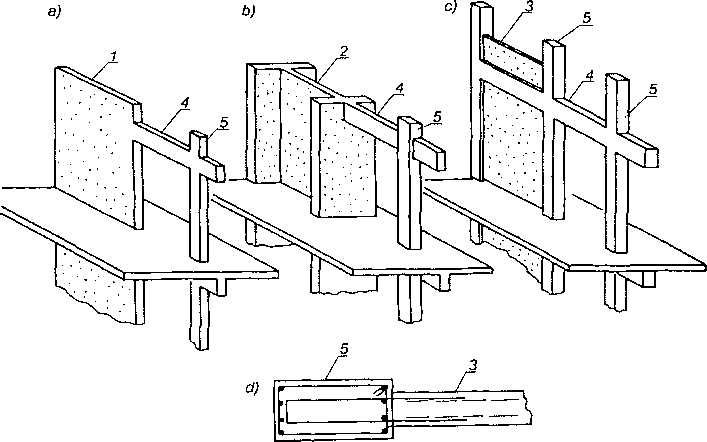 Frame and wall structures: a), b) walls set on the foundation, c) inter-story wall-shield, d) detail of the wall-to-column connection; 1 - a wall with a rectangular section, 2 - wall with an I-section, 3 - filling wall (diaphragm, shield), 4 - frame bolt, 5 - pole.
Frame and wall structures
Walls cooperating with frames in transferring mainly horizontal loads may constitute separate strips extending from the foundation through the entire height of the building (Lynx. a, b), or they can only fill the frame area between the stories (Lynx. c).
The thickness of the walls-plates that stiffen the building is 15-20 cm, while the thickness of the walls transferring vertical and horizontal loads in buildings with a height of up to 30 storeys can be 30 cm in the lower floors and 16-18 cm in the upper floors. The walls have a rectangular cross-section (Lynx. a), T-shaped or I-beam (Lynx. b). If the wall cooperates in a second plane with other construction elements, then the compound cross-sections are assumed, tees, I-beam.
The walls-shields can be made of concrete (reinforced concrete), brick or concrete block walls. Brick walls are more often used in multi-storey buildings, while in tall buildings it is better to use reinforced concrete walls connected to columns. Figure d shows how the wall is connected to the column. The walls-shields made of masonry should tightly adhere to the mullions and transoms of the frames along the perimeter. To make them, use materials of appropriate strength and quality.