Floor and roof slabs in multi-storey buildings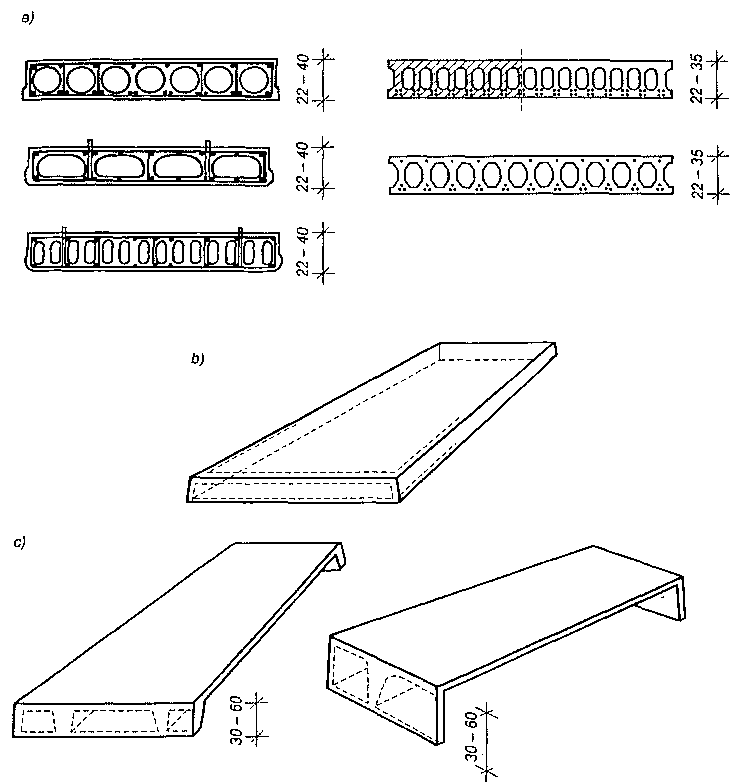 Ceiling and roof slabs: a) cross-sections of multi-hole reinforced concrete and prestressed concrete slabs, b) view of the rib plate, c) ribbed plates. 2T i T
Short-span ceilings are made of solid boards, for larger spans, greater floor stiffness is required, which is obtained by increasing the thickness of the plates. In order to reduce the ceiling's weight, holes are made in the slab; these are the so-called. multi-hole plates (canal).
The minimum thickness of the panels also depends on the acoustic requirements. The thickness of the solid plates is approx. 14-18 cm, a with holes 22-30 cm. The figure shows the different types of floor slabs used in both residential construction, general, and industrial.
Multi-hole plates (Lynx. a) are produced as reinforced concrete and prestressed. The span of reinforced concrete slabs is up to 6,0 m, and compressed to 12,0 m.
Cut-outs are made at the edges of the floor slabs, that provide a better connection. Longitudinal cutouts of the slabs filled with concrete create locks between the slabs and prevent them from pressing when moving loads are changed (utility variables). The front cutouts provide a better connection of the panels to walls and other panels. Cut-outs in external wall panels should enable such connections, which prevent the formation of thermal bridges.