Constructions of hall buildings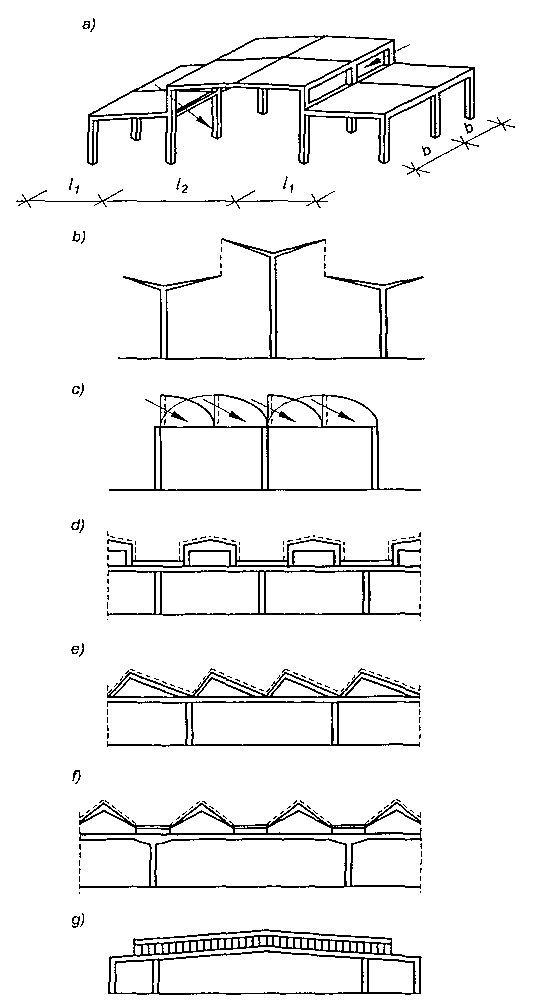 Ways of lighting the halls: a) side by the elevation of every second aisle, b) side by varying the height of the structure, c) pilast roofs - skylights along the hall, d) lantern skylights, e) pilast fireflies, f) crawler skylights along the hall, g) crawler skylights across the hall.
Natural lighting of multi-bay halls can be obtained by using aisles of different heights or by means of skylights placed on the roof structure. Skylights can be oblong, transverse or lantern.
The hall structures are made of wood, metal (mostly steel) and concrete (reinforced concrete, compressed). Wooden structures are used in temporary or permanent halls, mainly there, where there is a chemically aggressive environment.
Metal constructions (steel, aluminum), used in halls with larger spans or there, where you need to build quickly and in cases justified by technological reasons. Monolithic and prefabricated concrete structures are widely used in hall construction for various purposes. Monolithic structures are mainly used in atypical buildings, while in typical buildings, prefabricated structures are used.
Depending on the span of the aisles' covering, the halls can be divided into three basic groups:
a) small spans - up to 12 m,
b) medium ranges - up to 36 m,
c) large spans - above 39 m.
Moreover, when classifying halls, the height of the hall may be used as further criteria, interior design, etc..
Due to the way the halls are constructed, as well as their static work, halls can be divided into:
a) spatially shaped from rod and flat structures; poles, belek, trusses, plates,
b) shaped with the use of surface covers,
c) shaped from independent spatial structures.
Depending on the static scheme of the transverse load-bearing structures of the halls, these structures can be divided into:
a) framework,
b) column-beam, column-truss,
c) expanding,
d) spatial, shell, bar.