Unified construction system JSB-L and JSB-TT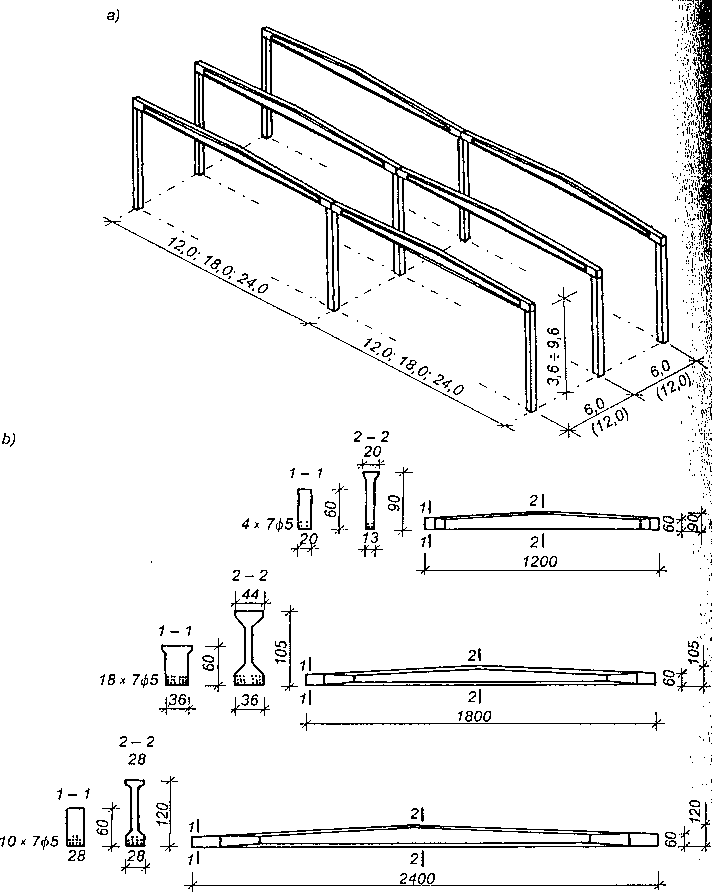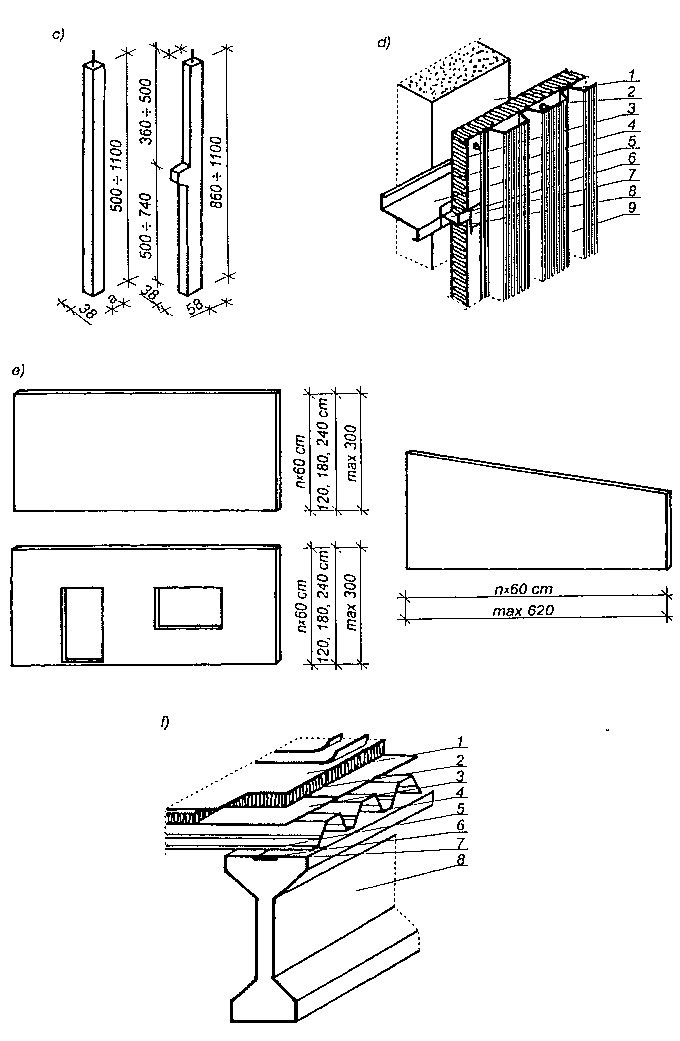 Structural elements of the JSB-L system: a) superstructure, b) prestressed girders, c) poles, d) light housing; 1 - reinforced concrete sloop, 2 - spiral connector, 3 - invoiced mineral wool, 4 - mineral wool, 5 - bolt, 6 - distance profiles, 7 - blind rivet, 8 - PVC tape, 9 - corrugated steel sheet, e) solid and perforated reinforced concrete wall panels, f) detail of the roof covering; 1 — papa, 2 - thermal insulation of the "Lamalla" thickness 80 mm, 3 - vapor barrier, 4 - corrugated steel sheet, 5 - steel pin, 6 - flat bar, 7 - washer, 8 - girder.
Unified construction system JSB-L and JSB-TT. The figure shows the construction elements of the JSB-L system, from which one can build halls- and multi-bay with a column grid of 12.0×6,0 m, 18,0 x 6,0 m, 24,0×6,0 m and height from 3,6 do 9,6 m changing every 60 cm do 6,0 m, and above what 120 cm.
The structure of the cover is made of gable prestressed concrete girders, on which light covers made of corrugated sheets are placed, insulation boards and roofing felt.
Welding and concreting have been eliminated in the joints of the elements. The girders rest on the columns via neoprene pads. The girder is connected to the column by a steel pin.
Hall cladding (exterior walls) are lightweight walls made in five variants. The elements of the walls and covering are connected to the structure by means of bolts, anchor rails and dowels.
The figure shows the structure of the JSB-TT system hall. The TT roof panels rest on the transoms in the longitudinal direction of the hall (rys.b) about the span 9,0; 12,0; 15,0 m or shelled with a span 18,0 m.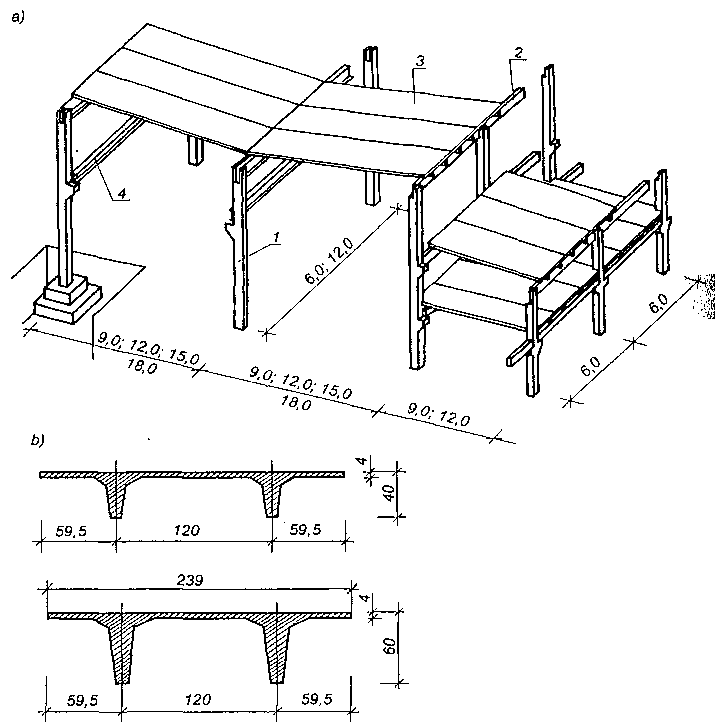 Scheme of the JSB-TT system hall: a) axonometric drawing, b) cross-sections of TT roof panels; 1 — slup, 2 - beam, 3 - prestressed plate, 4 - crane beam.
Other building systems. Prestressed roof panels with a span of l = 12,0 m and shell type Pł-12p are used for roofing of halls with aisles span 12,0 m and larger.
For larger spans of aisles, from 12,0 m, the roof panels are placed on the girders stretched in the transverse direction of the nave.
For the spacing of supports (hall longitudinal walls) amounting up 18,0 m, prestressed roof panels P-18 can be used.
In recent years, in Poland, various factories have been producing elements for hall covers, consisting of prestressed beams and roof panels.