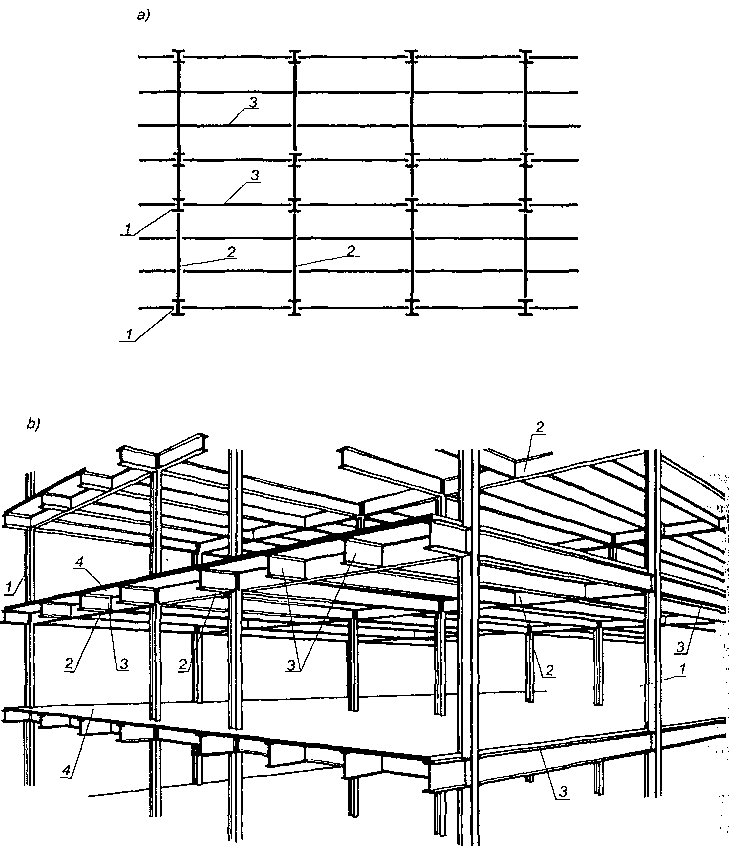 The transverse arrangement of the frames: a) throw, b) view; 1 – pole, 2 - transverse bolt, 3 – ceiling beam, 4 - ceiling slab.
The main elements of the steel frame structure are mullions and transoms, and in articulated structures also flat and spatial braces and stiffening walls.
Frame structures are created by rigid connection of all mullions with transoms. Column spacing (bolt span) depends mainly on the purpose and height of the building and the loads acting on the transoms from the ceilings. Column grids from 6,0 do 12,0 m.
The frames can be positioned on the building plan in the direction transverse to the longitudinal axis or in the longitudinal direction, however, a transverse arrangement is more often used.
The frame transoms are made of a full-walled section of rolled sections and sheet metal sections, and of openwork section or in the form of trusses. In order to obtain larger rooms, the storey-high transoms in the form of trusses or walls can be used, arranged staggered in two levels.
The ceilings rest on the upper and lower chords of each girder. The ceiling beams rest on the frame transoms or binders. These beams are usually placed at the height of the transom and connected by means of bolts to a flat bar or angle.
Rigid joints can both be welded, and screw. Bolt connections can be plain or frictional. High quality bolts are used for friction joints, often called compressors. Welded joints are mainly made for joining structural elements in a steel structure factory. On the construction site (assembly of the structure) items, are connected with screws.