Bipartite ventilated roofs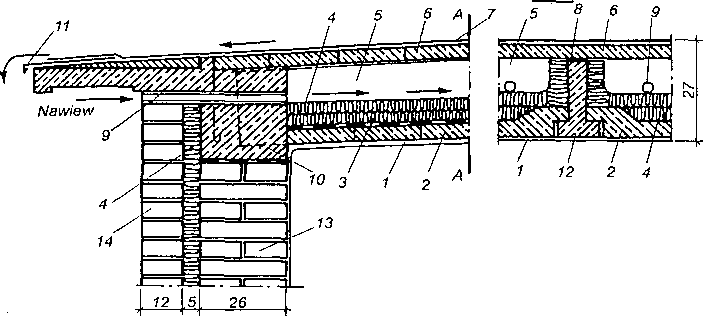 An example of a ventilated flat roof (sling T-27); 1 - plaster, 2 - lower reinforced concrete slab, 3 - vapor barrier insulation, 4 - warming, 5 - air gap, 6 - upper reinforced concrete slab, 7 - cover with two or three layers of roofing felt, 8 - a strip of semi-hard fibreboard, 9- dren, 10 - reinforced concrete wreath, 11 - sheet metal, 12 - T-27 beam, 13 - ceramic brick, 14 - silicate or ceramic brick.
Bipartite ventilated roofs.
The figure shows the construction of a two-part ventilated flat roof. The bipartite roof consists of a ceiling and a roof with a slope of the roof adapted to the type of roofing (papa, corrugated sheets, etc.). In this type of flat roof, the attic space is not used, sometimes they can be access attics.
Split roofs are made with a single or double load-bearing structure. In single-structure flat roofs, the load-bearing structure is one of the ceilings described, while the roof structure is carried through the soffit. Openwork walls made of bricks or hollow bricks are most often placed on the ceiling, on which the trough plates are placed. Double roofs consist of a ceiling and a roof.
In both types of flat roofs, the thermal insulation is placed on the vapor barrier placed on the ceiling, the air space between the ceiling and the roof is connected with the outside through the outlet openings, and the waterproofing is laid on the roof panels. The cross-sectional area of ​​the inlet and outlet openings should be at least 5% flat roof surface. These holes should be evenly spaced, to ensure good air exchange. Cover them with a net.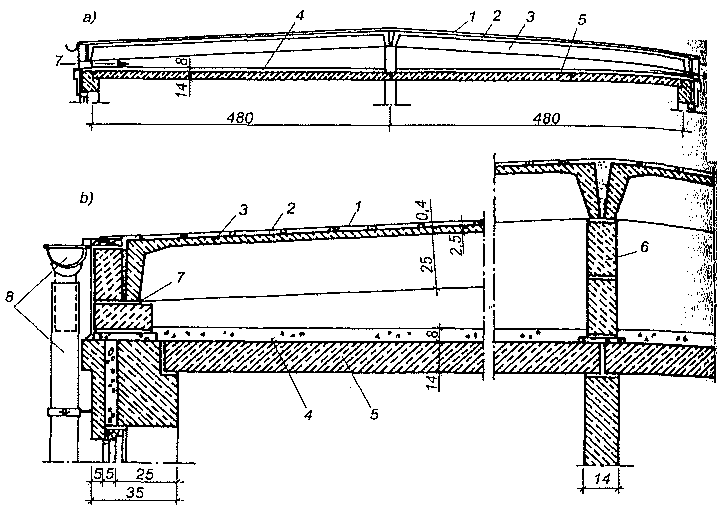 A flat roof with a double load-bearing structure: a) section, b) construction detail 1 - two layers of roofing felt, 2 - cement screed, 3 - ribbed plate, 4 - warming, 5 - plate, reinforced concrete, 6 - prefabricated or brick openwork wall, 7 - the vent, 8 - gutter and downpipe.