Monolithic buildings, part 4

Connecting the board to the wall: a) view, b) section; 1 - bruzda, 2 - socket, 3 - slab reinforcement, 4 - hidden beam.
The figure shows the articulated joints (partially restrained) connection of the floor slab with the wall previously made in sliding forms. The articulated and partially restrained connections of beams and plates can be made by leaving pockets in the walls, and partly also horizontal furrows. The reinforced concrete slab rests on the wall in the sockets via short brackets protruding from the slab and is additionally recessed by approx.. 4 cm in the furrow left in the wall.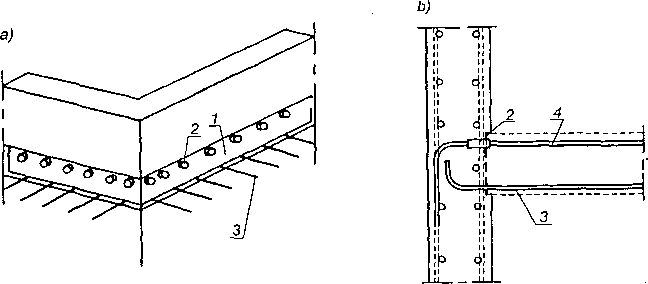 Rigid fixing of the reinforced concrete slab in the wall: a) arrangement of bars in the wall groove, b) way of connecting the bars; 1 - bruzda, 2 - nuts of bars concreted in the shaft, 3 - bottom bars bent after the slip has passed, 4 - rods with threaded ends, screwed into protruding nuts.
The rigid fixing of the reinforced concrete slab in the previously made wall is shown in the drawing. This connection was achieved by resting the plate in the groove, and partly in sockets and directly on the wall (within doorways) and by ensuring the continuity of the reinforcement bars. Continuity of reinforcement with diameters greater than 14 mm, located in the zone and slab under tension, can be obtained by the use of bolted connections. In the compression zone, it is sufficient to use the minimum number of bars with a diameter of up to 10 mm made of steel A-I class concreted in the wall, and after the slip passes, bent to the design position.
In Poland, the SBM-75 monolithic construction system was developed. In this system, it was possible to erect buildings with a longwall structure in a transverse open type and frame buildings with column-slab and column-beam structures..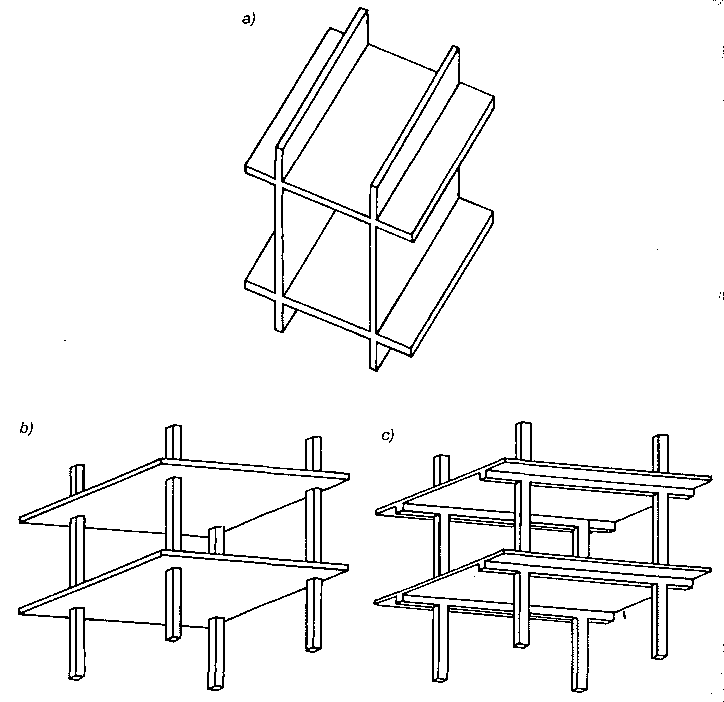 Structures of the SBM-75 system: a) longwall, b) column and plate,- c) słupowo-belkowa.
Spans of ceilings from 180 do 780 cm, with a change in span co 60 cm. The depth of the routes can be any. Wall thickness of buildings up to 16 storeys 15 cm, and heights up to 30 storeys - 20 cm.
The storeys may have heights 2,8 i 3,3 m. The thickness of the floor slabs is 16 cm with a span of l ≤ 6,0 m and 18 cm for l = 6,6 i 7,2 m or 20 cm for l = 7,8 m. Tunnel formwork is used for the construction of walls and ceilings, staggered forms can also be used. External curtain walls can be made of brick or aerated concrete blocks. Light curtain walls are also used.