LHS-N system of metal hall construction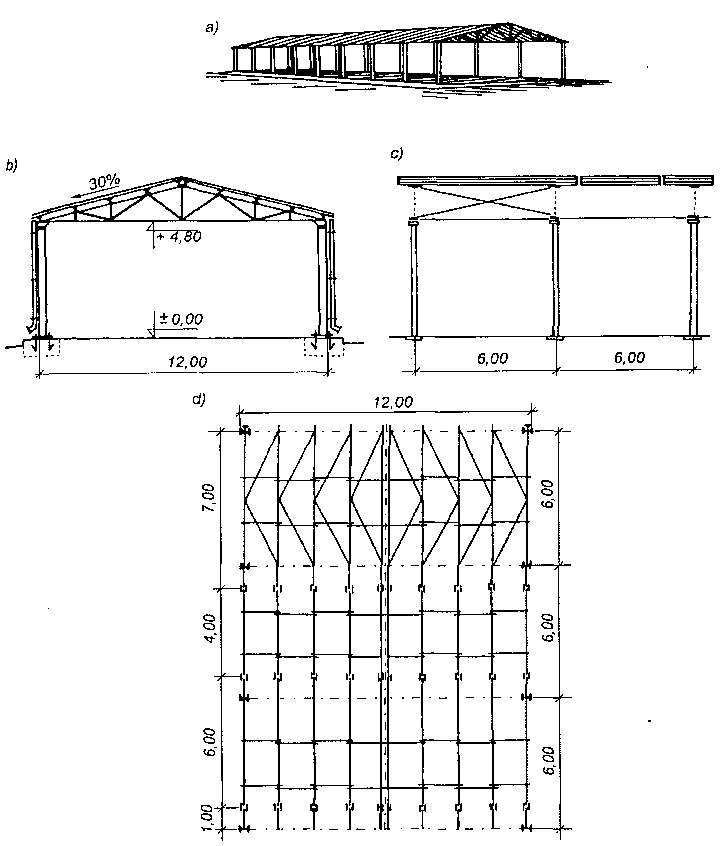 A shed with a mullion-truss structure: a) general view, b) cross-section, c) fragment of the longitudinal section, d) fragment of the projection.
System LHS-N. LHS system elements can be used to make shelters and non-insulated halls with column-truss and frame structures. The span of the shelters and halls is: 7,5; 9,0; 12,0 i 18,0 m, while the spacing of the poles is 4,5 or 6,0 m. The drawing above shows a hall with a column-and-truss structure
Roof trusses with a span of up to 12,0 m is made of bent sections, while about the span 15,0 i 18,0 m from hot-rolled sections. The same applies to poles for halls with a span of up to 9,0 m are made of bent sheets, while for the span 12,0 i 18,0 m - from hot-rolled I-sections.
Frame elements, i.e.. bolts and posts are made in the factory, and assembled with screws.
The casing of the structural frame of shelters and non-insulated halls can be made of galvanized corrugated steel sheets or highly corrugated cement panels. Corrugated sheets or cement boards are attached to the wall transoms. Details of solutions are given in the catalog. The corrugated sheets can also be laid horizontally with corrugations, and then the walls are boltless.
Roofing - corrugated sheets, cement boards - is placed on the purlins, which are based on the girders or transoms of the frames. The structure of the halls is concentrated with the following bracings:
a) transverse roofs,
b) vertical trusses in the ridge line,
c) longitudinal vertical axes of the columns.