System LHS-0 metal hall construction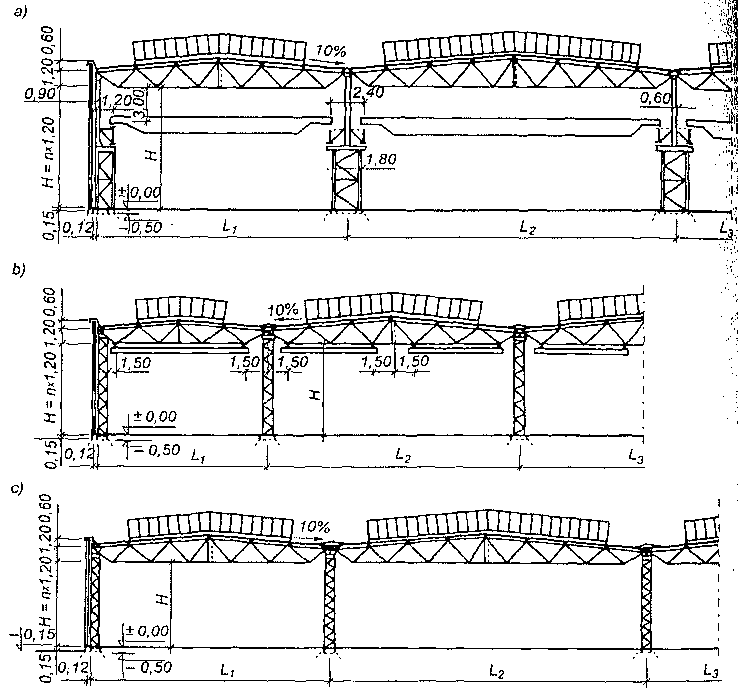 Cross-sections of halls: a) OTP, b) OTW, c) OBT
Metal hall construction systems.
There is a great demand of many industries for hall construction, mainly medium span 12,0-24,0 m.
Metal halls are built in Poland mainly in Mostostal LHS systems-0 i Mostostal LHS-N.
System LHS-0. From the elements of the LHS system-0 it is possible to build single and multi-bay insulated halls with OTP-supported transport, suspended OTW and without OBT transport.
The aisle spans are: 12,0; 18,0; 24,0 i 30,0 m, and the spacing of the posts 6,0 i 12,0 m. The height of the hall is a multiple 120 cm and depends on the way of use. The largest total length or width of the hall does not exceed 150,0 m. Elements of the steel structure are provided for the "light" covering with a load together with snow 60 kg/m2.
The figure shows the cross-sections of OTP halls with supported transport, the OTW hall with suspended transport and the OBT hall without transport.
The figure shows the longitudinal sections of the halls.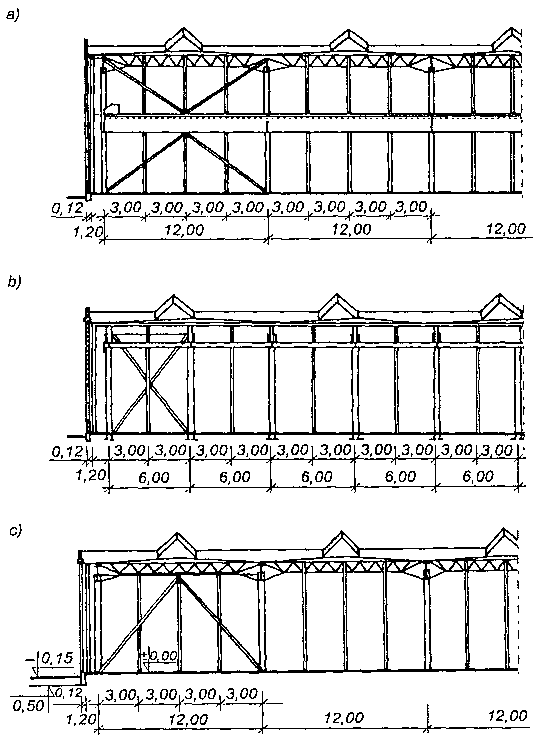 Longitudinal sections of the halls: a) OTP, b) OTW, c) OBT.
The structural system of the halls consists of:
a) two-branch poles,
b) roof trusses,
c) purlins,
d) crane beams,
e) housing components.
Span trusses 12,0 m constitute one assembly segment, while the span trusses 18,0; 24,0 i 30,0 m consist of two half-trusses.
I-section posts are used in the external walls.
In the halls, plate girder crane beams or beams made of I-sections with a reinforced upper flange are used. The wall cladding can be made of sandwich panels fixed to the wall studs or to the bolts.