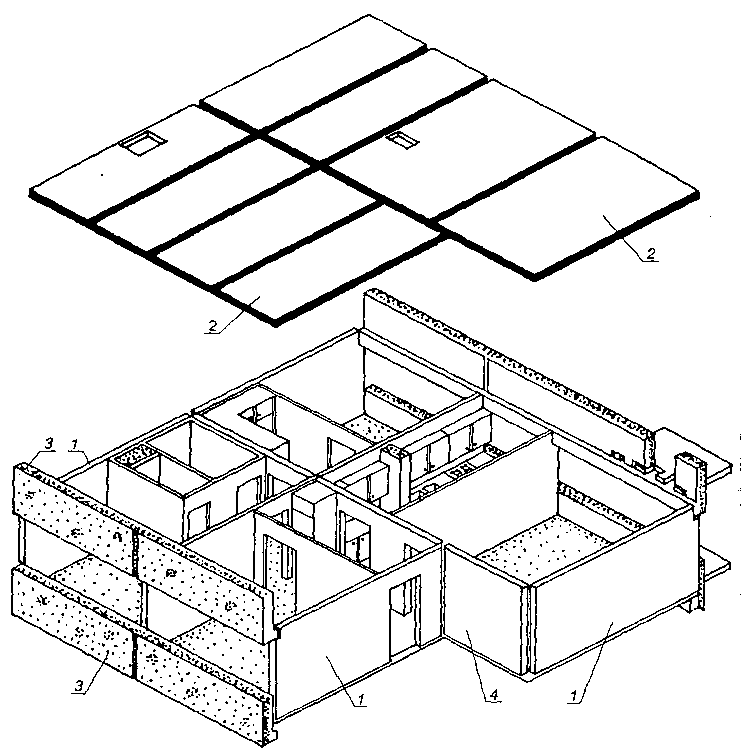 Structural diagram of the OW-T system; 1 - inner wall, 2 - ceiling slab, 3 - beam-wall, 4 - inner wall.
Systemy OW-T/67 i OW-T/75
The drawing above shows a diagram of the structure of the OW-T system, and to the line. basic structural elements below. The OW-T / 75 system solutions were basically adopted from the OW-T / 67 system, after introducing the necessary changes resulting from the implementation experience. The OW-T / 67 system residential buildings were erected at a height 5 i 11 storeys. The OW-T / 75 system provides for the construction of 16-story buildings.
In the construction of buildings 5- and 11-storey, a two-way arrangement of load-bearing walls and two-way reinforced floor slabs based on three edges. In the OW-T / 67 system, the floor slabs rested on a beam - an external wall set on transverse load-bearing walls (Lynx. c). The beam-wall played the role of a structural element and a curtain wall.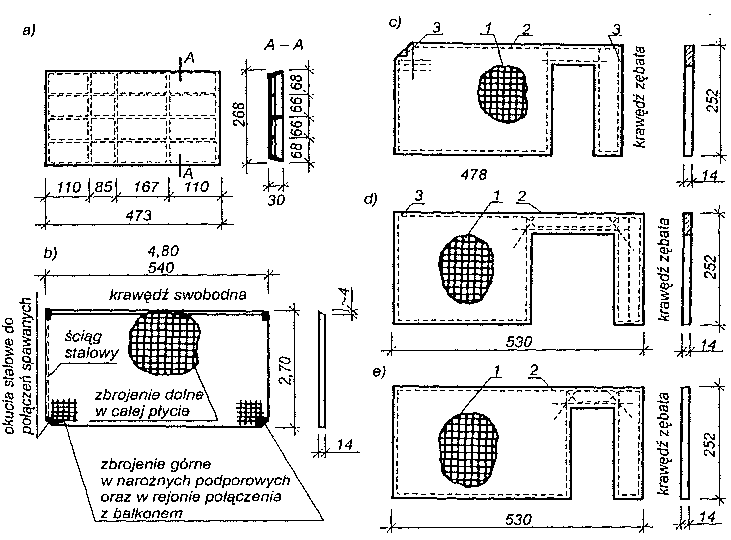 Structural elements of the OW-T / 67 system: a) roof ribbed plate, b) ceiling slab, c) transverse wall in the extreme process, d) transverse wall in the middle section, e) longitudinal wall; 1 - reinforcement, 2 - steel tie, 3 - anchors.
Thick floor slabs 14 cm were made with dimensions 270 x 480 cm i 270 x 540 cm. The boards were made without holes for installation cables or with holes. In the OW-T / 75 system, the thickness of the plates was 16 cm. With this thickness, the boards could be produced in length 6,0 m.
The transverse and middle longitudinal bearing walls were made in the OW-T / 75 system with a thickness 15 cm. Building slabs in height 5 storeys were made of unreinforced concrete, and for buildings with a height 11 storeys (lower floors) made of reinforced concrete. The panels were made with door openings, mounting plates and cut-outs for embedding landing plates in them.
External longitudinal walls were made in the form of beams-walls. The outer walls were a sill-lintel element. The outer walls consisted of the following layers;
a) reinforced concrete load-bearing layer with a thickness 6 cm,
b) insulating layer (Styrofoam) 5 cm,
c) texture layer 5 cm.
In the OW-T / 75 system, the load-bearing walls were manufactured in 3 varieties:
a) three-layer load-bearing walls,
b) curtain walls,
c) walls made of aerated concrete elements.
In addition to the listed elements, the system includes: ribbed roof panels, balcony slabs, gable walls and stair elements.