Prefabricated building systems – System ram H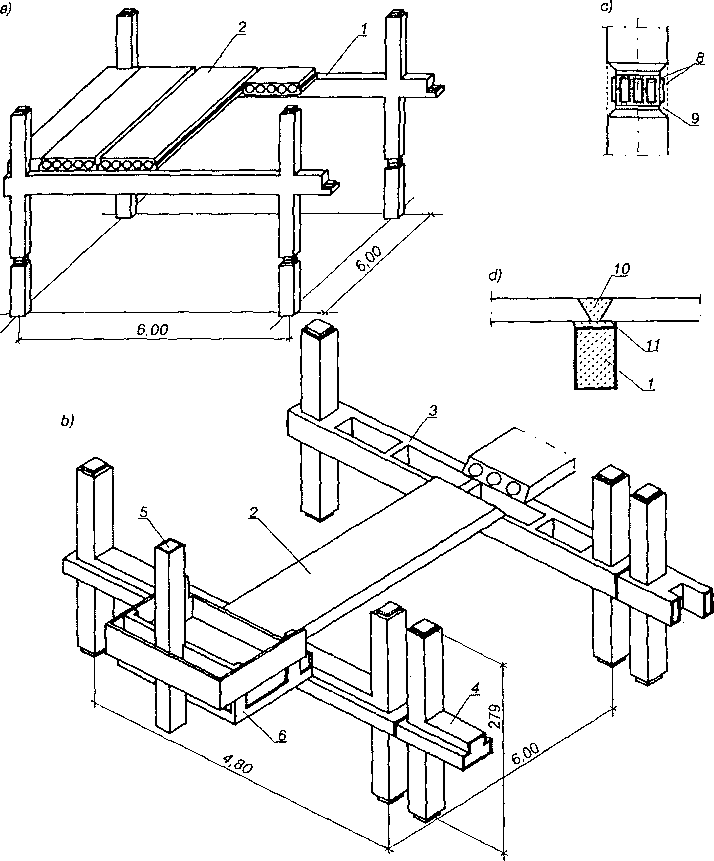 Construction diagrams of the H-frame system: a) transverse layout, b) longitudinal layout, c) connection of the pole, d) supporting the floor slab on the transom; 1 — rama, 2 - ceiling slab, 3 - inner frame, 4 - outer frame, 5 - balcony pole, 6 - element balkonowy, 7 - overlays, 8 - concreting, 9 - wreath, 10 - mortar.
System ram H.
The structural structure of the H frame system consists of a frame positioned transversely to the longitudinal axis of the building or parallel, and the floor slabs. The system consists of elements: rama H, multi-opening floor slabs, stiffening diaphragms, spatial elements of balconies and staircase elements. The design principle of the H-frame system in transverse and longitudinal configuration is shown in the figure.
Spacing of H frames both in the transverse arrangement, and lengthwise depend on the length of the floor slabs used; in housing construction it is usually not greater than 6,0 m. The spacing of the frame columns in the transverse system is 6,0-7,2 m, while in the longitudinal 4,8-6,0 m.
External curtain walls are used in the H frame system; sandwich panels manufactured in factories or masonry walls. Brick walls can be single-layer or two-layer- or three-layer.