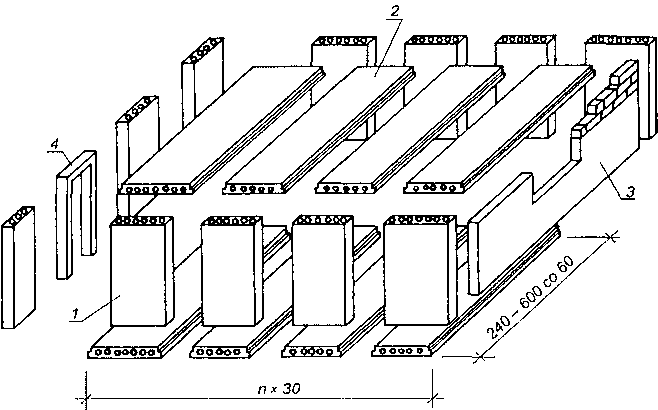 Structural elements of the system Ż; 1 - internal wall block, 2 - multi-opening floor slabs, 3 - external curtain wall (filling) or self-supporting, 4 - door frame.
The figure shows a diagram of the construction and assembly system of Ż, colloquially called "Żerań brick". Wall blocks and floor slabs have oblong holes. Residential buildings were made of multi-opening wall blocks and floor slabs, school, nurseries and others. In residential buildings, mostly a transverse arrangement of walls was used, could also be, used longitudinal or cross arrangement.
In the Ż system, residential buildings were erected up to the height 16 storeys. In buildings higher than 5 storeys, channels of wall blocks placed in the walls of the lower storeys were filled with concrete, to obtain a higher load-bearing capacity of the walls. Monolithic reinforced concrete beams reinforced with steel bars are made on the wall blocks at the level of the ceilings of each floor..
The Ż system consisted of approx. 200 prefabricated elements differing in shape and dimensions. In the Ż system, external curtain walls were made of aerated concrete blocks of varieties 06, 07 i 09, while the partition walls were made of perforated bricks, aerated concrete tiles or gypsum boards of the Pro-Monta type.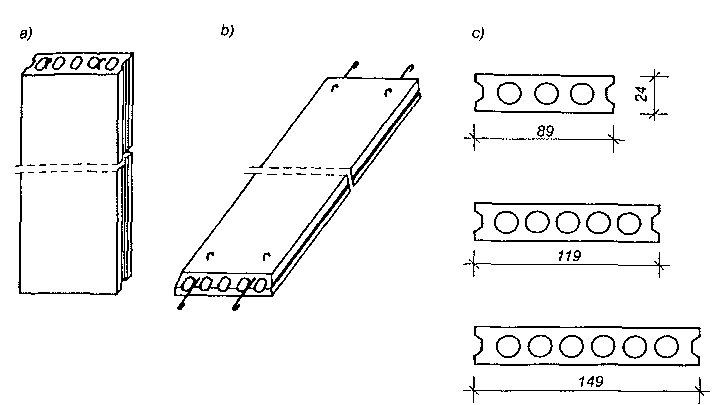 Basic elements of the system Ż: a) wall block, b) multi-opening floor slab, c) sections of wall blocks.
The figure shows the elements of the Żerań system: internal wall block and ceiling slab. The wall blocks are one story high - 252 cm and width 89, 119 i 149 cm. The length of the plates is 240-600 cm with a change in length every 30 cm. The widths of the floor slabs are 89, 119 i 149 cm. The thickness of the wall blocks and floor slabs is 24 cm. External wall blocks were covered with a layer of thermal insulation on the outside, on which the facade layer was laid.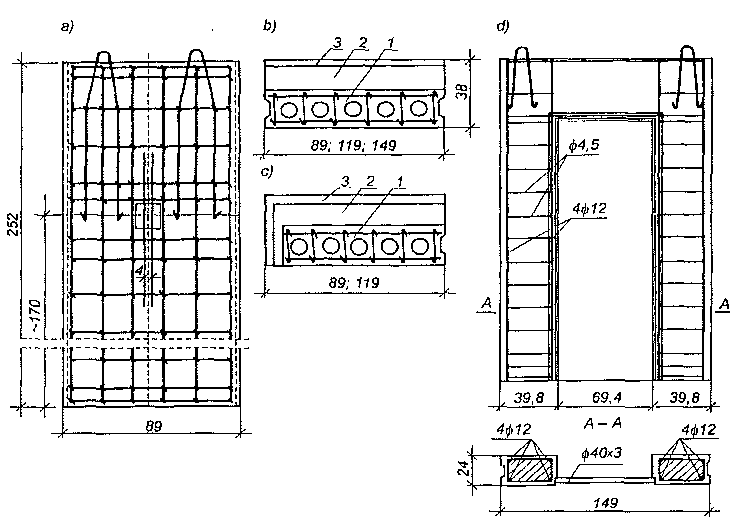 Wall blocks: a) gable intermediate block, b) cross section of the intermediate block, c) cross-section block corner, d) door block (ramka); 1 - concrete block, 2 - insulating layers, 3 - texture layer (facade).