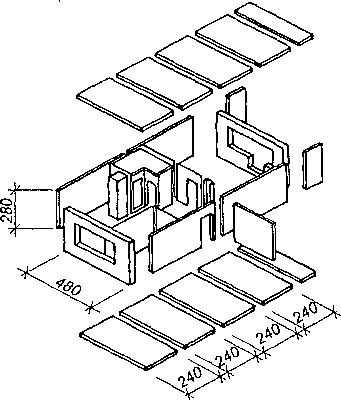 The Szczecin system.
The figure shows the prefabricated elements constituting the structural system and their mutual position in the structure. Buildings of a height were erected in the Szczecin system 5 i 11 storeys. The spacing of the transverse walls was 2,4 m i 4,8 m. Range 4,8 m was the limit for slab ceilings adopted in the system with one-way reinforcement.
Hollow-free ceiling slabs with a thickness 14 cm and dimensions in the plan 329×478 cm was produced in the following varieties:
a) base span 2,4 i 4,8 m,
b) with openings for installation and ventilation pipes of a span 2,4 i 4,8 m.
The periphery of the plates could be supported or unsupported. Supported periphery had nests with spaced loops 120 cm, and unsupported, the profile needed to shape the joint, which, when filled with mortar, prevented keying.
Internal walls with a thickness 15 cm, heights 263 cm and length 240 i 480 cm was produced in the following varieties:
a) full plates 2,4 i 4,8 m,
b) plates with door openings,
c) panels with cantilever lintels,
d) boards with vertical grooves for supporting the foot of the staircase landing,
e) corridor slabs in length 1,4 m,
f) frames for staircases of 11-story buildings.
Rectification and assembly rods protruded from the upper edge of the slab. The external load-bearing walls were made of expanded clay concrete slabs of thickness 40 cm including the texture layer thickness 2,5 cm.
The outer panels were made in the following variants:
a) middle loggias with a length 4,8 m,
b) corner loggias in length 5,1 m i 1,5 m,
c) corner,
d) corner full,
e) knee walls.
The perimeters of the prefabricated elements were profiled on the outer and inner sides of the wall. The profiling from the outside was used to insulate the joints, and on the inside to ensure their strength.
The outer walls were self-supporting and were made of LECA with a thickness 36 cm with the texture and length 2,4 i 4,8 m.
Length plates 4,8 m was produced in the following varieties:
a) with window and door openings,
b) loggiowe,
c) balcony,
d) knee walls.
The edges of the walls were profiled in a similar way to the external walls. Similar to the W-70 system, and in the Szczecin system, apart from the above-mentioned elements, the system also included sanitary cabins and staircase elements, loggi, balconies and basement walls. The figure shows the wall elements and the floor element of the system.
Structural elements of the Szczecin system: a) outer wall, b) ceiling slab, c) inner wall.