Suspended ceilings to the ceilings of buildings with a steel bearing structure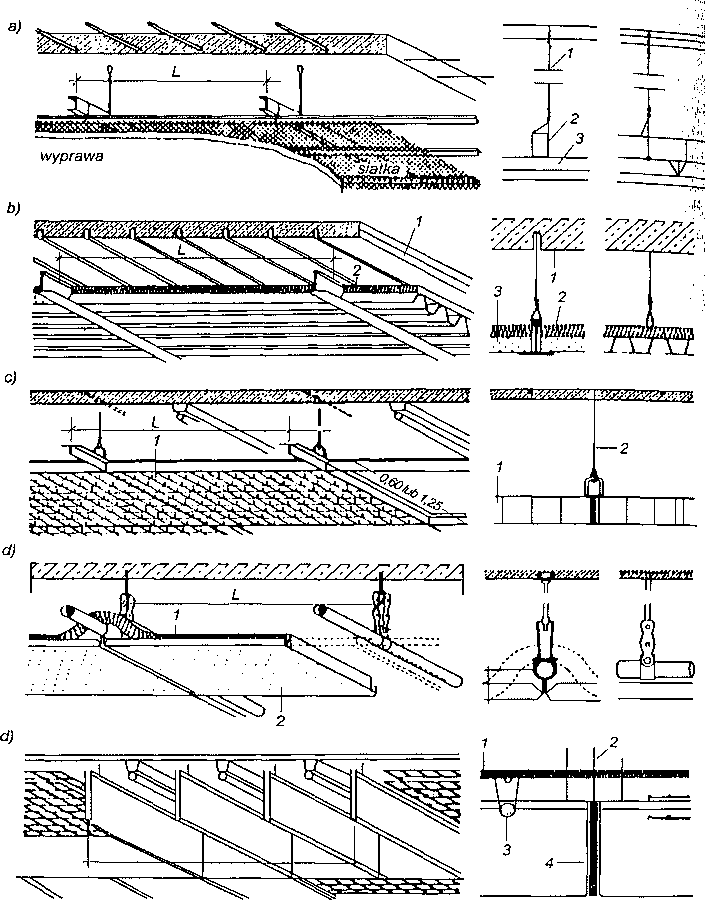 Suspended ceilings for various purposes: a) mesh ceiling (Rabitza): 1 - hangers what 80 cm, 2 - channels (oblong) co 1,0 m, 3 - tees (transverse) co 80 cm; b) Reynold acoustic ceiling: 1 - the actual floor made in steel channels, 2 - glass wool damping plates, 3 - aluminum perforated sheets; c) luminous ceiling, plastic cassettes: 1 - cassette plates in a steel grate, 2 - bar hangers; d) ceiling for ceiling heating by radiation - also an acoustic ceiling: 1 - damping plates, 2 - perforated aluminum plates attached to heating pipes; e) the ceiling meets simultaneously 3 role: light ceiling, acoustic and to cover the air-conditioning system, 1 - damping plates, 2 - hangers, 3 - fluorescent lamps with a fitting, 4 - acoustic boards.
Suspended ceilings from the ceilings in buildings with a supporting structure made of steel or reinforced concrete can fulfill various functions:
- decorative in auditoriums, commercial pavilions, etc.,
- to hide installation devices, in laboratories, industrial premises,
- as an acoustic ceiling in concert halls and radio and TV studios,
- as a fireproof ceiling,
- as a suspended working ceiling.
Depending on the destination, Suspended ceilings can be made of various materials.
Ventilation grilles are built into the ceilings, air conditioning grilles, lighting units, heating devices, etc.. The suspended ceiling consists of a load-bearing structure and filling.
The spacing of the L hangers depends on the type of suspended ceiling.
The spatial stiffness of frame buildings can be provided in two directions by frames with rigid nodes or in one frame, and in the second, vertical braces. On the other hand, in skeletal structures with articulated nodes, vertical braces are used in both directions, walls or shafts.
The ceilings in their plane are stiffened with horizontal braces.
In very tall buildings above 40 storeys (more than 120 m) single or double skin regimes are used, and even composed of several shells. The shell can be formed by frames placed around the perimeter of the building or inside. In shells with a rectangular mesh, the spacing of the columns does not exceed 4,0-4,5 m.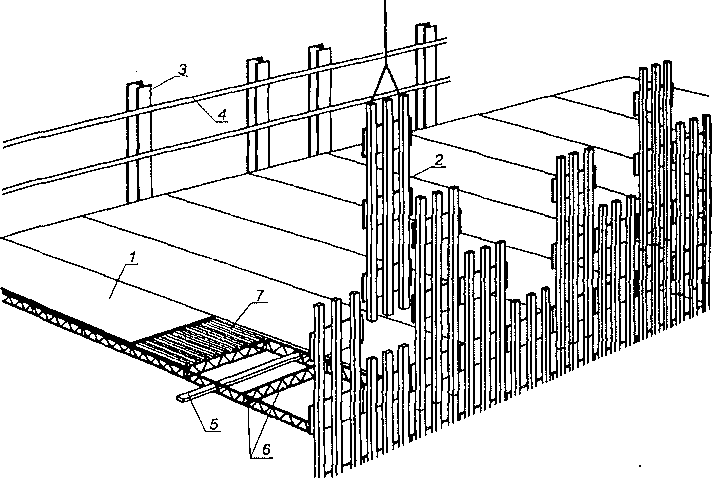 The structure of the World Trade Center shell building 417 m in height; 1 - floor slabs, 2 - shell element, 3 - inner shell poles, 4 - rygle, 5 - installation cable, 6 - truss (bar), 7 - corrugated plate (trapezoid).
The figure shows the construction principle of the World Trade Center building built in New York in height 417 m. The outer shell consists of mullions and bolts. The load-bearing structure of the ceilings is made of trusses with a span of approx. 20,0 m connected by transverse trusses. The floor slab rests on the trusses.
In last 15 Over the years, high-rise buildings with steel and reinforced concrete structures have been erected. The load-bearing structure is made in two stages: in the first, a steel structure of approx. 8-10 storeys, in the second, a reinforced concrete structure is made. In a steel and reinforced concrete structure, the outer shell is usually made in the form of a frame.