Structures of the core building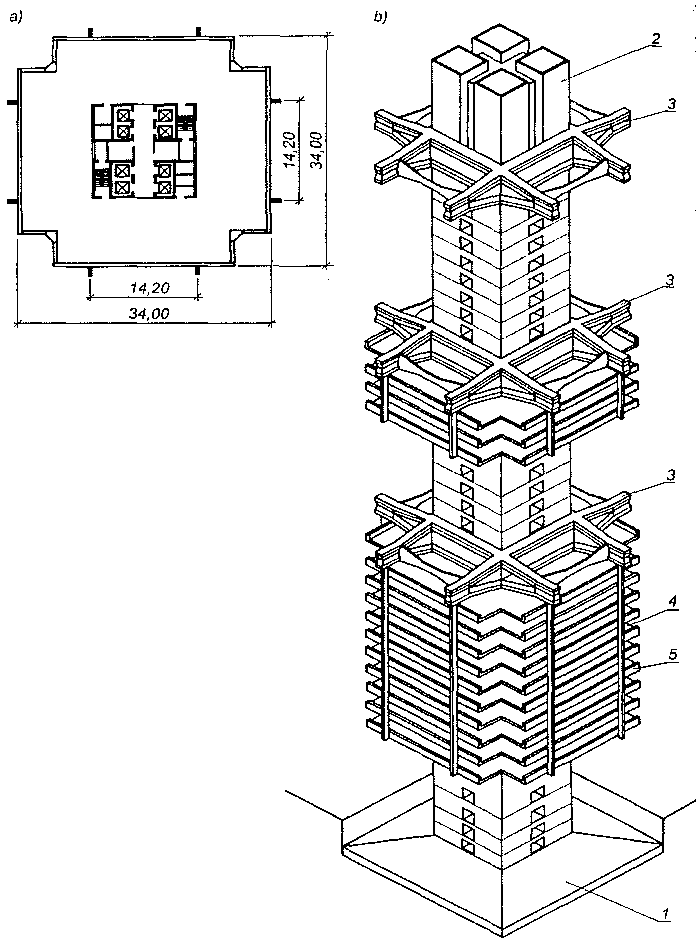 The structures of the core building in Johannesburg: a) throw, b) view; 1 - foundation, 2 - four-segment shaft, 3 - main pre-stressed concrete girder, 4 - hanger, 5 - ceiling.
In shank buildings - with one or two shafts - the shafts transfer all loads acting on the building to the ground and are used to place elements of vertical communication and installation devices.
The figure shows the load-bearing structure of a shaft building in Johannesburg in height 30 storeys. The main cable-concrete girders rest on three levels on the reinforced concrete shaft composed of four segments, on which the ceilings are hung. The use of hearth buildings is cost-effective up to height 25-30 storeys. For greater heights and for foundation on weak soils, it is advisable to use two or three shafts.
In core-frame buildings, the shafts play a role similar to the walls in frame-wall structures. Shell and core-shell structures are used in the tallest buildings. Buildings taller than 100 m have load-carrying structures composed of one or more shells (bundle of coatings).
In the case of a double-skin system, the outer layer consists of mullions and transoms of the outer wall, the inner shell and most often the stem.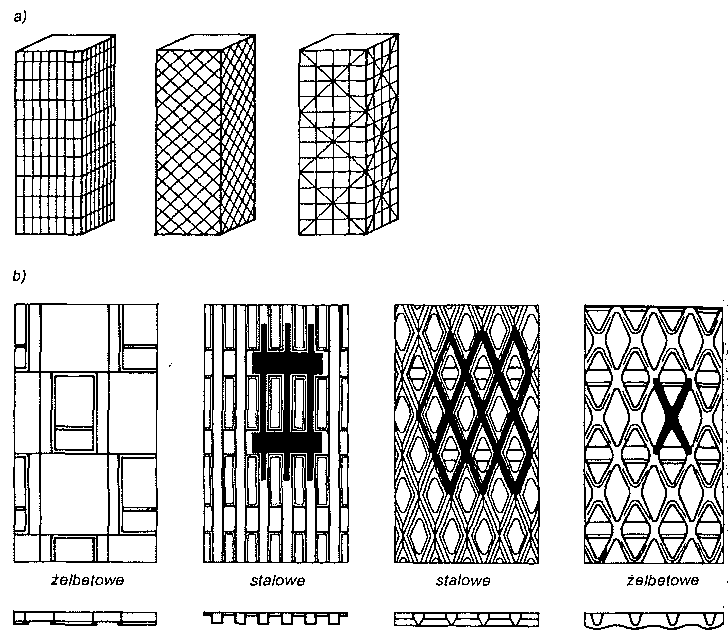 Shell systems: a) types of coatings (rectangular mesh shells, oblique and mixed), b) elements of coatings.
The skeleton of the outer shell resembles a perforated pipe with rectangular holes, rhombic, etc.. For technological and utility reasons, external walls (coating) are most often made in the form of a mesh with rectangular openings. They can be, for example, closed frames around the perimeter of the building (Lynx. a) or multi-lane walls (wall strips connected by lintels or floor slabs).