Monolithic reinforced concrete buildings – Framework systems part 4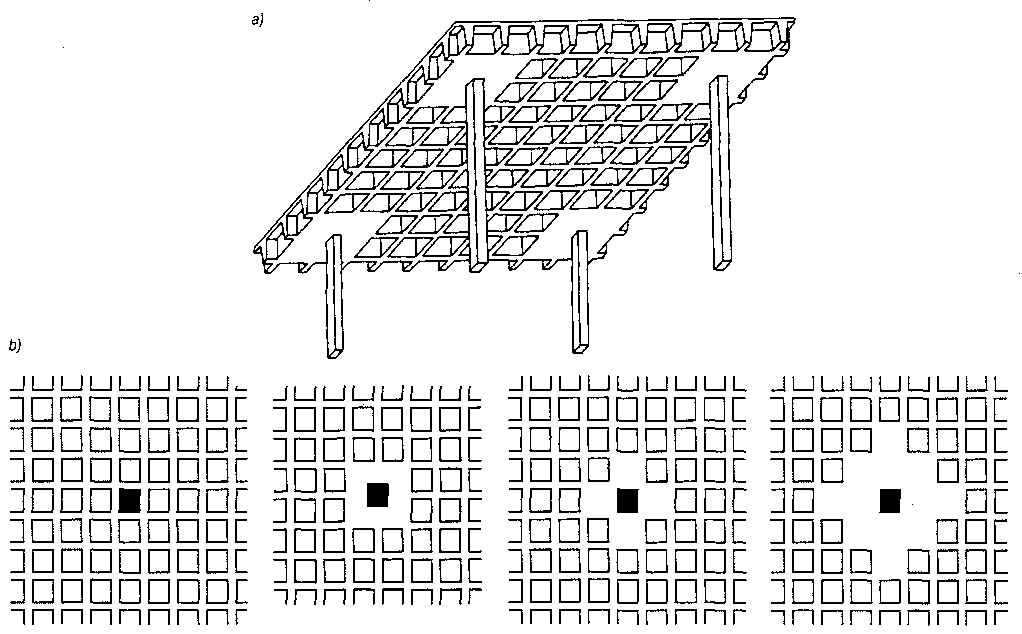 Column-plate structure (coffered ceiling): a) view, b) exemplary shaping of column heads, c) detail of the reinforcement of the coffered ceiling; 1 – shape, 2 – rib reinforcement, 3 – reinforcement of the intercostal plate, 4 – concrete slabs and ribs.
If the column mesh in the building has longer spans (more than 6,0 m) and there are higher service loads, e.g.. in department stores etc., it is then that systems consisting of columns and coffered ceilings are used. In warehouse buildings and parking lots, these ceilings were also made for the column grid 6,0 x 6,0 m and variable loads p ≥ 3,5 kN/m2.
The cassette ceilings are thick 20-60 cm. The ceiling ribs are situated in both directions, creating square meshes. The mesh dimensions are 30 x 30 – 150 x 150 cm. Plastic forms reinforced with fiberglass or extruded from sheet metal are most often used to make the ceilings.
The arrangement of the coffers in the ceiling is shown in the drawing. A solid slab is usually made above the columns (without coffers). The shape of the head is determined by the strength and aesthetic and functional conditions. The thickness of the intercostal plate is based on the bearing capacity condition (e.g.. punctures under the dripstone of the vehicle wheel) and with the condition of use (acoustic insulation).
The distribution of installation cables at the height of the coffered ceilings is more difficult than in the case of slab ceilings. Drilling larger diameters in the ceiling ribs for installation pipes reduces the load-bearing capacity of the ribs. Most often installation cables; hangs under the ceiling. If it is necessary for aesthetic and functional reasons, these installations are covered with suspended ceilings. Ceilings with suspended ceilings are not the most appropriate solution, and moreover, they have a greater height than the ceiling without a suspended ceiling, which increases the overall volume of the building.
Reinforcement of ribs of cassette ceilings is made of single bars placed in both directions of the interpenetrating ribs. Prestressing reinforcement in multi-section cassette and grate ceilings is practically not used due to the small technical and economic effects and the great difficulty in designing and execution.
In monolithic frame structures, grid and ribbed ceilings made of reinforced concrete and ceramic-reinforced concrete can also be used.. The ceiling can be considered as grate, if there are no more than six ribs in the field between the supports. The arrangement of the ribs in such a floor is similar to that of a coffered floor, except that the distance between the ribs is much larger.